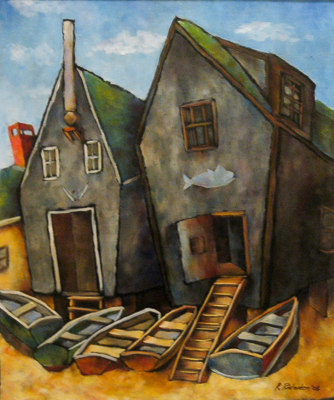 Bob Richardson will demonstrate his oil painting techniques in our Second Sunday Demonstration Series event on June 12, 2:00 to 4:00 PM, in the
SAA Gallery
.
About the artist…
Robert (Bob) Richardson
Artist & Instructor
Bob paints to capture a moment or place with the intention of imprinting his feelings for that place or moment .
Bob's professional experience is equally extensive and varied.
Bob's professional experience includes 20 years of creative product & process development work with The Franklin Mint in a vast range of materials and manufacturing processes. Bob has also worked with The Goebel Company [ Germany ] ,maker of the famous Hummel Figurines , Towel Silversmiths , Lillian Vernon Inc. Lenox Collections , Hanover Direct and other marketing organizations involved in the field of " Collectibles " and Direct Marketing.
Bob has traveled extensively in Europe and Asia throughout his professional career in pursuit of new products , new ideas and old , lost and forgotten " Decorative Arts " manufacturing processes.
Bob is a native of Wilmington, Delaware, a graduate of La Salle University Philadelphia, Pa. and Temple University and currently lives in Exeter , New Hampshire with his wife Bernice .
Bob is a Juried member and past member of the Board of Directors of the New Hampshire Art Association , with membership in other regional art association including The Newburyport Art Association , The Exeter Open Studio Group [AKA SOS ] and former Board member of the Exeter Arts Committee.
Bob is a member of the
Haverhill Arts Association & the Exeter Seacoast Art Association .Bob has been an active member of the Doylestown , Pa. Art League, taught oil painting classes at the Doylestown Community Conservatory School of Music ,Arts and Drama and was a founding member of The Arts & Cultural Council of Bucks County Pa. Bob studied oil painting under the direction of the late Edward L. Loper, Senior ; founder of the Loper School of Art ,Wilmington Delaware .
In September 2006, Bob was awarded the Walter Emerson Baum Award and received the award once again in September 2015 .
Each summer Bob can be found with friends painting in Old Quebec City ,Canada, as well as on Monhegan Island , Maine. Through the use of Cezanne's limited pallet of 8 colors, Bob's paintings are rich with color, space, light and bold Lines.  Bob has taught oil painting classes at the Newburyport Art Association , Newburyport Mass. and in Exeter, New Hampshire . Bob offers Oil Painting Workshops & Classes for beginners to advanced artists in search of a new direction and dimension to their painting .