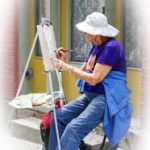 As the artist featured in August, Ravgiala will be displaying works in Explore Your Garden. Attend the artist reception for Joanne Ravgiala in Exeter, N.H. on Aug.4 from 4-7 p.m. at the Seacoast Artist Association gallery, 130 Water Street, Exeter. Refreshments will be served.
Joanne, a resident of Portsmouth, NH, is primarily a plein air painter. She loves trying to capture a sense of the sights, sounds and smells of a location. "There is a wonderful story-telling quality to capturing a moment on canvas," she says. She finds painting and drawing the beauty of the human figure a fascinating challenge. While she enjoys the magical transparency and fresh immediate quality of watercolors, she is drawn to the tactile sensory aspects of painting with oils. She particularly cherishes the mutual trust and friendships that have developed with art colleagues as she expanded her painting experience.


She exhibits her work at the Seacoast Art Association, as well the Kittery Art Association. Her work has also been exhibited juried N.H.A.A.. shows. Currently, she is exhibiting a watercolor at the Sheafe Warehouse, Prescott Park, Portsmouth N.H.. A graduate of Plymouth State College, she feels fortunate to have had Karl Drerup, master painter, as an instructor. She attributes much of her love of all art forms to his inspiration and encouragement. She taught fifth and third grades in Somersworth Public Schools for 28 years. For much of that time, there was no art instructor, which gave her the opportunity to bring her enthusiasm for art to her students.
Her winter home of Puerto Vallarta, Mexico, provides extraordinary options for painting and enjoying the arts. There she continues to be encouraged and inspired by children as she brings weekly art activities to the young residents of a local orphanage.