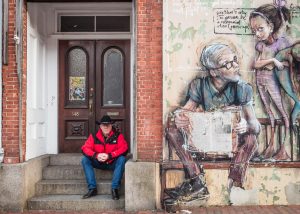 As the artist featured in September, John W. Baumann of Exeter, NH will be displaying works in digital photography. Attend the artist reception for John on Sep 8th 2017, from 4-7 pm at the Seacoast Artist Association gallery, 130 Water Street, Exeter. John's seascapes, landscapes and fine art photography expresses a sense of historical narrative, but with the strength of abstract compositions.


His images convey his love of life, history and the great outdoors, from his native Texas to his current home in Windham, New Hampshire. Photographing the world around him, he invites the viewer to look both at open spaces on the wide horizon and at the intimate textures of revealing details.
After serving 23 years on active duty in the U.S. Air Force, John decided to take his photographic skills as a hobbyist to the next level. Armed with his GI Bill, he headed back to school part-time and full time for the next 7 years. John is a 2009 graduate of the Center for Digital Imaging Arts at Boston University. He has since studied graphic design at UMass Lowell and studio arts at Middlesex Community College. His work is displayed in the Arts League of Lowell Gallery in Lowell, MA, the Seacoast Artist Association Gallery in Exeter, NH and at Creative Framing Solutions in Manchester, NH. Beginning October 1st, John will be an exhibiting member of the Loading Dock Gallery, Lowell, MA.
Photography is a passion for John. He enjoys the process involved in scouting out new locations to photograph as well as the quiet moments listening to music on his iPhone while waiting for the right light to cascade over his subject. The world moves so quickly. He believes that an artfully made photograph is an invitation to stop, to see, to connect with what is there in front of us.
Visit the artist's website at jwbaumannphotography.com
E-mail: john@jwbaumannphotography.com or call 617-913-1690.