When The Seacoast Artist Association Art Gallery moved to its new location at 130 Water Street, right in the heart of downtown Exeter, they had more room – a lot more room. Eight hundred square feet of it was designated to be The Gallery Shop. Four artisans signed on to share this space and fill it with their works.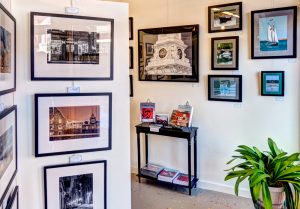 Nancy Morgan, a fabric artist, uses her sewing machine as her paint brush and her fabric, thread, and tulle as her medium. She layers fabric and stitches on a sewing machine using the hand guided free motion technique creating paintings in fabric that have to be seen to be believed.
Naz Kalhori of Naz K. Designs draws on nature to spontaneously and instinctively create jewelry from silver, copper, semiprecious-stones and leather. Her huge display of gorgeous earrings, necklace pendants and rings will thrill and satisfy jewelry lovers and have them coming into the gallery on a regular basis to find their next piece of jewelry treasure.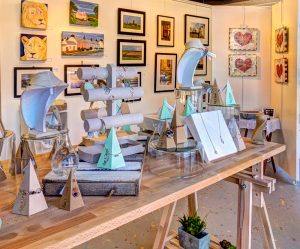 Debra Woodward is a photographer with a long list of credits to her name. Her subject matter calls to the heart of the traveler or the part in all of us that truly appreciates how beautiful our world is. We just need to look at her works on display to see wonderful things that we may not get to experience otherwise.
Karen Desrosiers is a multi-media artist. In her display you will find color and texture in the form of oil paintings, collage, mosaics and photography. Karen has an MFA in Fiction Writing but in the Gallery Shop you will find her art pieces tell interesting stories that you will want to become a part of by bringing them home with you.
Stop into The Gallery Shop at the SAA and be inspired by all this beauty brought together for your shopping pleasure. If you need a thoughtful gift, nothing is more heartfelt than the gift of art.