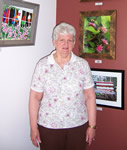 Margaret (Peggy) Lida Rose lives in Stratham, NH with her husband, Larry. Having lived in Stratham for over 35 years, they raised 3 wonderful daughters, Kathleen, Coleen, & Kristine. Our family at home now is Ginger, a Miniature Schnauzer and Pookie, a cat.
Ten years ago, Linda (Franklin) Logan introduced Peggy to watercolor. Linda studied under Scott Jackson, Laura Hilker and many more teachers. At present, she has a one-woman exhibit in Camden, Maine. Another teacher, Ann Perkins is very gifted. Besides teaching art, Ann is an author and photographer. Her Prismacolor colored pencil portraits are displayed in private collections.
Before discovering her love of watercolor, Peggy was a partner with her husband in their business, Kingsbury Kustom Krafts. Her focus was the art of aging prints and constructing scenes in Paper Tole. Peggy was also a Marketing Chairman of Rockingham Craftsman Association. She operated her own business, Victorian Whimsies for many years with booths in upper NH and at the old Church in York, Me.
Today, Peggy is a member of Seacoast Artists Association, York Art Association and the Hampton Arts Network. She now concentrates in the expansion of her skills in watercolor techniques.
Peggy's pen name, Lida Rose comes from honoring her mother, Margaret Lida Lawrence, who played a very special role as a devoted mother raising six children, and staying active in her community by cooking for the elderly and becoming president of the American Legion Ladies Auxiliary.
In the coming years, she is looking forward to exhibiting her works in Art fairs, Craft shows and gallery competition. Peggy's personal joy comes from sharing her art with others. Many patrons seem delighted and moved by her work.
How to Contact Me
Peggy Kingsbury
9 Stratham Lane
Stratham, NH 03885
Phone: 603-580-2612
Email: pegkings@live.com
About my Art
Media: Watercolor
My Artwork
Samples of Peggy's works (click any image for slideshow).