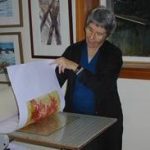 A Monotype demonstration will be held on Saturday, Nov 4th, 10:00 to 2:00 pm at the SAA Gallery, 130 Water St., Exeter, NH.
What is a Monotype?
Monotype is an intriguing hybrid among printing techniques. It is neither a print nor a painting, but a unique combination of both. The method is named because it is one image (mono), painted or drawn with printer's ink directly on a plate and then transferred to paper. The printing of an image from a clean, un-worked surface results in a quality that is open and free which easily allows innovation. The monotype is a singular image and cannot be replicated.
Annick's interest in monotype comes from a love of texture. She achieves depth, color and texture using different ink viscosities painted on a Plexiglas plate which is then passed through an etching press. Annick also likes to use the subtractive method. Images are created in a dark field by lifting the medium from the plate before passing it through the press.
Annick is a member of New Hampshire Art Association; Seacoast Artists Association. Annick has won numerous awards for both her Monotypes and Watercolors. Her works can be found in private collections throughout the United States, Canada and Europe. Annick Bouvron-Gromek was born in Brittany, France and now resides in Exeter, New Hampshire. You can view more of her work at the Gallery or you can contact her at her studio:
Annick Bouvron-Gromek, 25 Forest Street, Exeter, NH 03833
(603) 583-5293 Annickbg@comcast.net