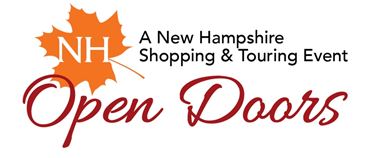 The Seacoast Artist Association Gallery and Shop is participating in NH Open Doors, a New Hampshire touring and shopping event that is happening on Saturday, November 4th, and Sunday, November 5th. During this weekend, artists, craftspeople, farms, retail shops and other businesses in the seacoast and throughout the state are opening their doors and featuring special activities for all ages, including craft demonstrations, food samplings, special sales, and more. Fall is a great time of year to tour New Hampshire's scenic highways and country roads, and to shop (tax-free) for New Hampshire-made gifts.
Our gallery showcases a collection of art and crafts created by seacoast artisans throughout the year. A special Members Awards Show will also be on display in an adjacent building. Hours are 10-5 Saturday and 12-4 Sunday. Saturday from 10 – 2 there will be hands on monotype demo. Sunday 12-3 will offer a chance to lose your fear of watercolor.
Plan a tour using NH Open Doors interactive map
NH Open Doors is a self-guided event; visitors create their own driving routes and visit the participants and locations that interest them. To help visitors plan their self-guided tour, the NH Open Doors website has an interactive map that lists participants by region. Each listing describes what each participant will be offering, and a custom-designed Google map showing the location of each participant with detailed driving directions. The website also features recommended itineraries suggested by NH Open Doors participants that highlight different areas of the state.
NH Open Doors managed by the League of NH Craftsmen and is sponsored in part by the state of New Hampshire. The League of NH Craftsmen (www.nhcrafts.org) is a non-profit arts organization that encourages, nurtures and promotes the creation, use and preservation of fine craft through the inspiration and education of artists and the broader community.