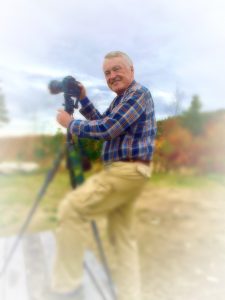 I am always searching for beauty and inspiration in landscapes and living things. My images highlight some of those moments captured with the camera. Each one brings me back to a sight, a place in time where I felt inspired by what I saw. Capturing that fleeting moment and sharing it with others is what drives my photography. Whether it brings back a memory of a favorite place or brings the viewer close to something they have never seen, the photos strive to capture the special nature of the subject. One of my favorite quotes is "Aspire to inspire before you expire!" – (Eugene Bell, Jr). Maybe there is an image here that does that for you…
Dennis has been photographing nature for more than 40 years. Wildlife from birds to bugs to moose, natural landscapes, and outdoor scenes are of most interest.
Dennis' background is in engineering. He started as an individual contributor in electronics hardware design, taught microprocessor circuit design at Merrimack College and developed and taught several design courses for technical staff while working for AT&T Bell Laboratories. Dennis finished his career as Vice-president of engineering for two successful high tech startups.
Dennis was leader of the Bay Circuit Trail committees for the North Shore of Massachusetts. He contributed photographs and writing to several trail guides. Dennis led the effort that created Prospect Hill State Forest in Rowley, Massachusetts. He was a volunteer in the 5 year long New Hampshire Audubon Dragonfly Study and currently leads a team of volunteers restoring Purple Martins in the NH Seacoast for NH Audubon.
Dennis' photography education comes from seminars, workshops, reading, on-line courses and experience. He was greatly influenced by the late Galen Rowell, whom he got to know at one of his outdoor photography workshops. Dennis is a field contributor to Nature Photographer Magazine, where he has had several photographs and articles published. He also authored an article for Wild Bird Magazine, that describes birding in the Deer Hill Wildlife Management Area in Brentwood, NH.
How to Contact Me
Dennis Skillman
99 Willow Road
East Kingston, NH 03827
Email: dennisskillman@liteworksphoto.com
My Artwork
Samples of Dennis' works (click any image for slideshow).