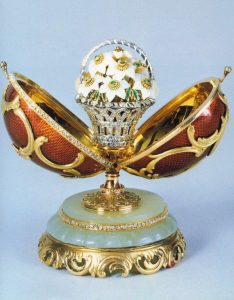 The Seacoast Artist Association presents
Imperial Russian Faberge Eggs
Interactive and beautifully illustrated
on Sunday, March 11th at 1:30pm
at the SAA Gallery (130 Water Street, Exeter, NH 03883)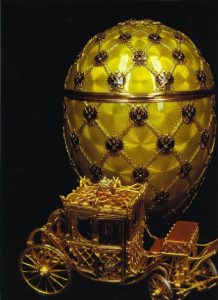 Traditional Russian artist and lecturer, Marina Forbes, will offer a unique interactive and beautifully illustrated presentation Imperial Russian Faberge Eggs focusing on the life and remarkable work of Russian master jeweler and artist, Peter Carl Fabergé. The program will feature a spectacular photo-tour of the Fabergé collection at the Faberge Museum at the Shuvalov Palace in St. Petersburg, the Kremlin Armory Museum in Moscow and other world famous museums and private collectors around the world. Emphasis is on the important role of egg painting in Russian culture and on the unique development of this major Russian art form from a traditional craft to the level of exquisite fine art under the patronage of the tsars. The fascinating history of these eggs and their role in the dramatic events of the last decades of Romanov rule in Russia and in the years following the Revolution will also be discussed by presenter Marina Forbes.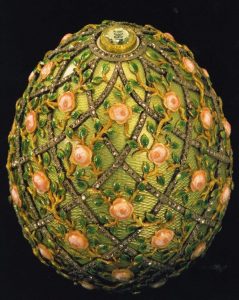 Presenter Marina Forbes is a lecturer, historian and award-winning artist who has written extensively on Russian traditional arts, history and the rich tapestry of Russian culture. She is licensed with the Hermitage Museum in St. Petersburg, and is featured on the New Hampshire Humanities Council Roster as a speaker on Russian Arts, History and Culture as well as NH Council on the Arts Rosters for Arts in Education and Traditional Arts. Each year, Marina leads cultural tours to Russia where she regularly updates her scholarship, gathering photos and documents, visiting craft factories, GULAG sites and monasteries, and interviewing journalists, political figures and scholars on the current state of affairs in Russia. Marina has a distinctive ability to generate energy and enthusiasm in the audience and to bring the rich fabric of traditional Russian art and folklore to life for children of all ages
through memorable and thought-provoking programs. Marina's talks are sometimes a little bit funny, sometimes a little bit sad…. but always unmistakably Russian.
For more info please call (603) 332-2255.