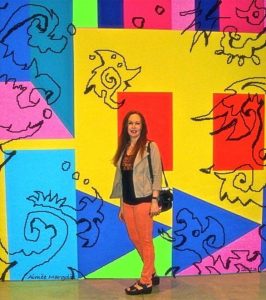 I grew up in New Hampshire and seeing and doing art does takes courage. Art is not reproducing reality but making your very own reality. The eye is important but merely portraying what is there, isn't. You have to push the envelope and look beyond. Letting the viewer, fill in the composition with their own references and imagination makes
fine art fresh and relevant. I happen to be a member of Relevant Artist Today, R.A.T. artists which try to be current and say something new in our time.
These water color sketches below are exercises. They do not push the envelope, nor say anything new. Merely an exercise using water color as a watery substance to portray movement in light and color.
For my art that captures relevant art today, check my websites, talenthouse.com/aimeemargolis, aimeemargolis.com for my videos and performance art.
About my Art
Media: Watercolor
My Artwork
Samples of Aimee's work (click any image for slideshow).