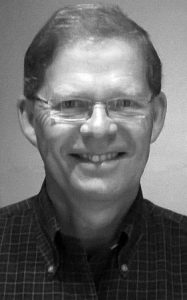 Dave Saums was born and grew up a few miles north of the Bronx and began taking photographs with a 35mm single-lens reflex at age 13, becoming a lifelong photographer and railroad buff.  These are avocations although both are taken very seriously; Dave has won a large number of awards at juried exhibits and art galleries in Vermont, Massachusetts, and New Hampshire.  His work hangs in two state governors' homes, several company collections, and in private collections from Maine to California.  He is the editor of a railroad historical society quarterly magazine, a journal on energy innovations and energy security, and has a modest gallery in an 1870s mill building in Amesbury, Massachusetts.  He has been a member of Seacoast Artist Association since 2011.  Today, Dave shoots both with film and with digital cameras, but also retains his 1959 Hasselblad and 1953 Kodak Retina III.  He is known for his focus on railroading images and for black-and-white photographs in New York, New England, California, and Europe.
About my Art
Media: Photography
Subjects: Landscapes, railroads
My Artwork
Samples of Dave's works (click any image for slideshow).