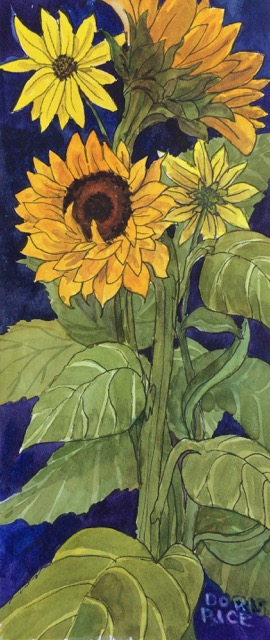 Summer is in full bloom at the Blue Moon
Doris Rice is showing some of her works
At the Blue Moon Evolution Restaurant,
8 Clifford St. Exeter, NH 03833 (603)778-6850
Summer is the theme
The show will run from June 1st to August 30th.
A reception will be held on Sunday July 23rd from 3 to 5
Please come and join us!
Doris B Rice: Watercolor Artist and Instructor
Doris' studio is the great outdoors. Painting on location is her inspiration, staying in the moment to capture the world around her. It is an exciting challenge!
She is a graduate of Moore College of Art in Philadelphia. Early years were spent there as an illustrator for advertising and publishing. In 1979, relocating from Philly to North Hampton, NH, she changed her focus to plein air painting, travelling to study with various master painters and developing her teaching style to bring others to the joy of creating.
Doris is active with her New Hampshire art connections, Seacoast Artist Association and NHAA. Doris teaches:
Adult classes: Portsmouth, Exeter, NH and Kittery, Me Workshops in many locations across the USA and Europe
Artist in residence projects for schools, and mentoring for degree students.
For information on workshops, classes and paintings, look Doris up on the web: www.dorisrice.com